Full service bike builder
IRonPit started as a hobby of Ronnie Breuer. This hobby began around 1990. And after years of working with harley's and even in the Top Fuel Drag racing, it was time to set up our own business in 2005.
With some great results, magazine coverage and lots of bike building prices. At IRonPit you can find everything you could possibly want for your Harley, from an oil change to a 'one off' custom bike. We do it all: full restorations, servicing, tuning, maintenance, etc etc... We sell both original and aftermarket HD parts. But we also fabricate custom parts.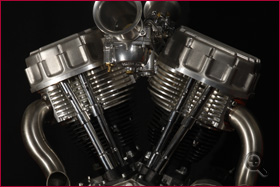 Superpan engines:
The Superpan engine block is an idea that was born in the end of the 90s. Ronnie Breuer wanted to build a panhead combining a reliability block with great power. Through his experience in drag racing, he began to work on his own cylinder heads because that is the weak link in the original panhead design. The first set of heads was produced on a conventional (no CNC!) milling machine specially purchased for this project. After nearly 10 years of testing (or really just tearing up roads around europe) a series of these heads was produced on a CNC​​. Contact us if you have any questions about the specs or purchase information. Or come talk to us on one of the many bike shows we attend in europe.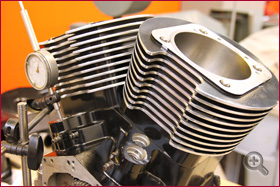 daily maintenance
service
You can contact IRonPit for all your daily maintenance, repairs, complete overhaul or full restoration. With over 20 years experience your engine is in good hand. From ancient to modern Liberator Twincam you have come to the right place. You can also contact IRonPit for Harley Davidson (engine) parts, original or aftermarket.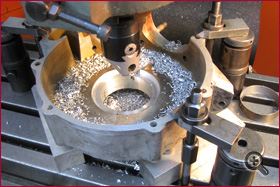 Unique "one of a kind"
parts
IronPit manufactures many special parts in-house. This happens to any requirements and customer specifications. We produce everything from small parts to complete frames and engines. If you have an idea, just drop us a line or give us a call and we can surely help you out.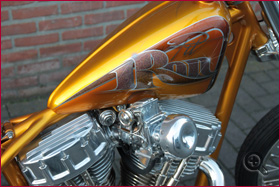 Kustom
Projects
IRonPit is a fully loaded "one stop kustom shop" and home of the Super Pan and since this year the Super Pan II. We do all of our custom fabrication in house. Click the image above for a small overview of the projects we do. More work can be found on our main page (dutch).